Developing your aim statement is one of the first 'thinking' steps in applying the model for improvement. It is a fundamental step to 'get right' and forms the basis of all of the ensuing improvement work that a project team will need to do in their QI project. So, spending sufficient time in thinking about and discussing/agreeing your aim is definitely time well spent. But what questions do you need to think about to develop the best aim that will provide your project with the greatest chance of success? The questions to ask yourselves as a project team come under the SMART acronym: Specific, Measurable, Achievable, Realistic, Timely.
The following graphic shows what a good aim is designed to do; in essence an aim statement defines what and where the project is about, how much it sets out to improve and by when. That means that there are four key elements for the statement; what, where, by how much and by when.
To ensure that we have those elements present, we can apply the SMART acronym and the following graphic defines what each means.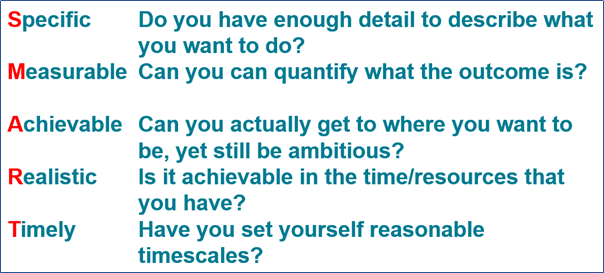 In learning about applying the model for improvement, there is no better way to learn than considering a few examples, so here are some good aim statements. Can you spot the 'what, where, by how much and by when'?
To reduce wait times in Harrow CAMHS service for initial assessment from 6 months to 4 months by 01 December 2021, whilst maintaining safety and maximising service user experience and outcomes.
Archway Sexual Health Clinic to increase the number of STI screens performed each month by 50% by January 2022
To enhance patient access to Hillingdon District Nursing Services by improving patient call answer rate to over 90% by October 2021
To help you learn more about developing your aim, here are several options to help your learning:
Good luck with developing your SMART Aim. Don't forget that a QI coach can help you if you are stuck. Contact your Divisional Improvement Advisor who can put you in touch with a QI coach if you need one.
Contact Information
For support or further information on any aspect of improvement work in CNWL, please contact the QI Team in the Improvement Academy at: