Posted on: 10 December 2020
On Wednesday 9 December 2020, CNWL held its third Domestic Abuse conference virtually.
We were joined by a range of guest speakers including Nicole Jacobs, Domestic Abuse Commissioner, England and Wales who outlined the laws and legislation of the recent passed Domestic Abuse Bill.
Nicola said: "Spotting early signs of domestic abuse is so important for victims, and can save so much pain and heartache down the line. This is where the health sector comes in, as staff who work in this sector often see things first hand so continuing to support them is fundamental."
James Rowland, Independent Domestic Homicide Review Chair and Doctoral Researcher explained his research into learning from domestic homicides in England for health.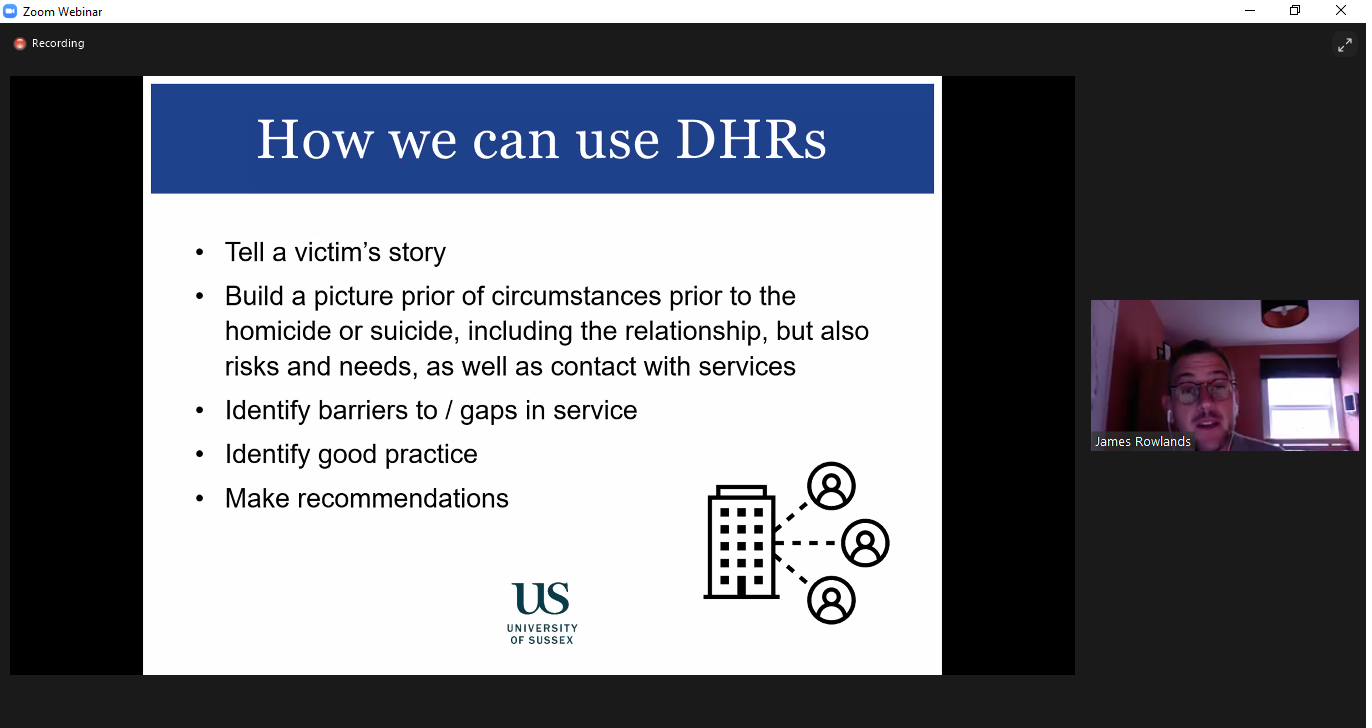 Dr Akima Thomas OBE, Founder and Clinical Director, Women and Girls Network was welcomed to talk about the impact of the Covid-19 pandemic on BAME communities.
Dr Thomas said: "Poverty, racism and intersectionality disadvantage, we understood this as another pandemic of widespread discrimination."
The learning event addressed specific barriers of domestic abuse elder survivors, Monsura Mahmud from Solace Women's Aid presented statistics on elder women and men domestic abuse victims.
Three Domestic Abuse survivors bravely shared their experience and received praise for being so open.
The learning event's main focus was 'The Impact of Covid-19', with learning lessons from spotting home working warning signs and the cost of the pandemic affecting economic abuse and employment.
Catherine Knights, CNWL Director of Quality closed the learning event by thanking over 350 staff members who joined, including over 70 of CNWL Domestic Abuse ambassadors.
Catherine said: "Many thanks to all of you who joined todays learning event, with so many of you participating in this event it highlights even more how much of an issue this continues to be. I hope you can take away some of the learning from today and incorporate this not only into your role but everyday, domestic abuse is everyone's issue and can save a life if we have the knowledge of what to do if we spot it."
If you're interested in becoming a Domestic Abuse ambassador, please get in touch with Susan Bray, Trust Domestic Abuse Lead at susanbray1@nhs.net and Holly Thomas, Domestic Abuse Co-ordinator at h.thomas12@nhs.net