Posted on: 13 November 2023
On Saturday 4 November our CNWL Health & Justice Women and Men's service lines hosted a successful recruitment event at the DoubleTree Hilton Hotel in Woking, Surrey.
The day began with candidate registration followed by a wel
come talk from Traceyanne Hughes, Head of Women's Service Line introducing our services in Surrey.
Candidates are then invited to complete a written assessment – tailored to the role and then subject to the score are interviewed by a panel.
The time between completing the assessment and interview is filled with networking with our wonderful staff – all on hand to encourage and provide information about working in prisons.
Verity Berry, was in charge of the Virtual Reality experience which was very well received by attendees!
All in all, it was a great day where we welcomed 21 face-to-face candidates, one virtual candidate and offered 10 people a mix of bank and permanent positions.
Our Health and Justice services have built up a lot of experience in hosting events and open days. The event is organised by Kirstie Clements, Interim Recruitment and Retention lead and led by Traceyanne Hughes,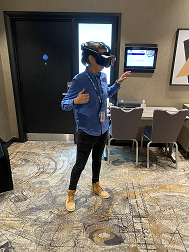 Head of Women's Service Line and very ably supported by 10 staff members from across Surrey - a big thank you to them!
If you want to learn more about working in our Health and Justice services, click the button below.